The biggest international brands in the automotive, construction, cold storage, and transport industries all gathered under one roof at the SMX Convention Center in Pasay City last July 24 to July 26. The grand hall was divided into four sections, with separate entrances, to make way for four consecutive trade expos namely: PhilAuto 2019 (Philippines' Leading International Auto Aftermarket Exhibition), Philippines Bus Truck 2019, Cold Chain Philippines 2019, and CME 2019 (Construction Machinery & Engineering Exhibition).

PhilAuto 2019 featured the latest products, services, and upgrades in the automotive aftermarket today. Each booth introduced new additions to their product lineup including, automotive parts, accessories, systems, servicing equipment, specialised modifications, as well as repair and maintenance services.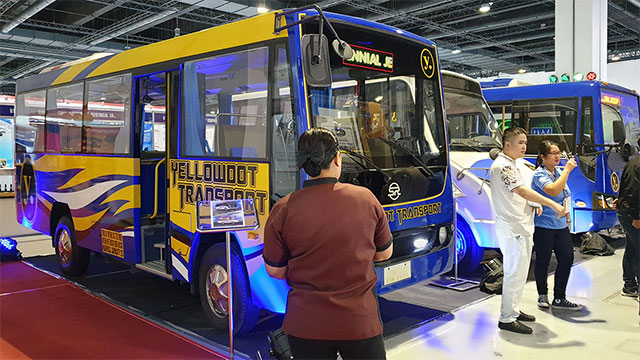 In addition to this, large-scale commercial vehicles, hybrid modern jeepneys, truck models, and cold chain storage facilities were stationed within meters of the booths, as part of the Philippines Bus Truck 2019 and Cold Chain Philippines 2019 trade show event. Many of the visitors were able to get the first-hand experience of getting on these vehicles and seeing the hybrids up close.

The brands under CME 2019, on the other hand, set up a gallery of photos and large, digital displays of railway, road, and bridge construction projects to which they've contributed. The infrastructural contractors promoted their consultancy services, property development, and survey and design.

A number of talks and conferences were also held throughout the three-day tradeshow event. Conducted by industry professionals, the seminars had been fruitful in expanding the knowledge of both the trade visitors and exhibiting companies on the latest industry trends.

Overall, the event was a huge success, with thousands of visitors in attendance. About 500 companies participated in the expo. The massive event gave car manufacturers, automotive sellers, and construction companies the chance to generate solid leads, source potential clients and partners, and network with key industry players.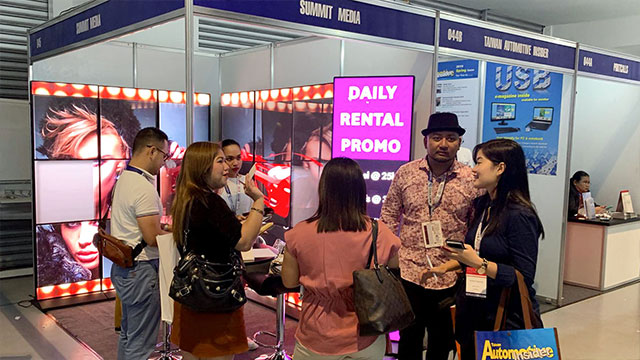 Summit Outdoor Media, a brand that supplies cutting-edge LED panels, was also present at the event. Their booth easily stood out, as it featured a colorful and impressive wall-to-wall display of digital ad content taken from their LEDs installed at EDSA Guadalupe. The bright and eye-catching panels were enough to draw many trade visitors and even co-exhibitors who wanted to feature their products digitally for upcoming expos.

The event was the perfect opportunity for the brand to introduce their all-new Crius I and II LED indoor models. Possessing the attributes of a Smart LED, these durable, lightweight, indoor displays effectively deliver messages in HD quality and stunning clarity. These models were designed to be adaptive to their environment with automatic sensors that effortlessly fine-tune the panels' brightness levels to ensure that the ads are visibly seen in the best way possible.

"We're offering our special rates for trade visitors who might want to buy or rent our high-end LED panels for their next event. Actually, what we're really pushing is for our customers to purchase our LED panels. This way, they have the freedom to use the equipment as many times as they like and transport them anywhere they please," explains Eunique Lerpido, Account Manager of Summit Outdoor Media's Digital Arrays team.

The brand also gave trade visitors a glimpse of all the digital products that they offer—from slim indoor LED panels to full-scale, building-side outdoor displays.

"One thing our brand prides itself in is having energy-efficient yet highly impactful LED screens. If you pass by one of our locations at Galleria Corporate Center, you'll see how different our digital display ads are. Our LED screens use advanced Japanese technology to project high-resolution video loops and images, even in the glare of the sun. Plus, we also offer after-sales services, like maintenance and content management, for our clients," continues Lerpido.

Originally only a group that produces billboard ads, Summit Outdoor Media proves that it can keep up with the evolving times and fearlessly take on the digital route as well. Boasting of a wide-array of out-of-home advertising solutions, the brand continues to leave its mark in the digital advertising world. The brand's endless pursuit of creativity and innovation and their commitment to producing quality digital display ads show a bright and clear picture of what they have envisioned for their future.

Find out more about Summit Outdoor Media by visiting their website.

PHOTOS: Summit Outdoor Media