A media first, NutriAsia's Locally has partnered with Summit Outdoor Media to simultaneously stream their advertisements on five prime digital outdoor screens across Metro Manila for one whole month to relaunch their Superfruits line and increase brand awareness.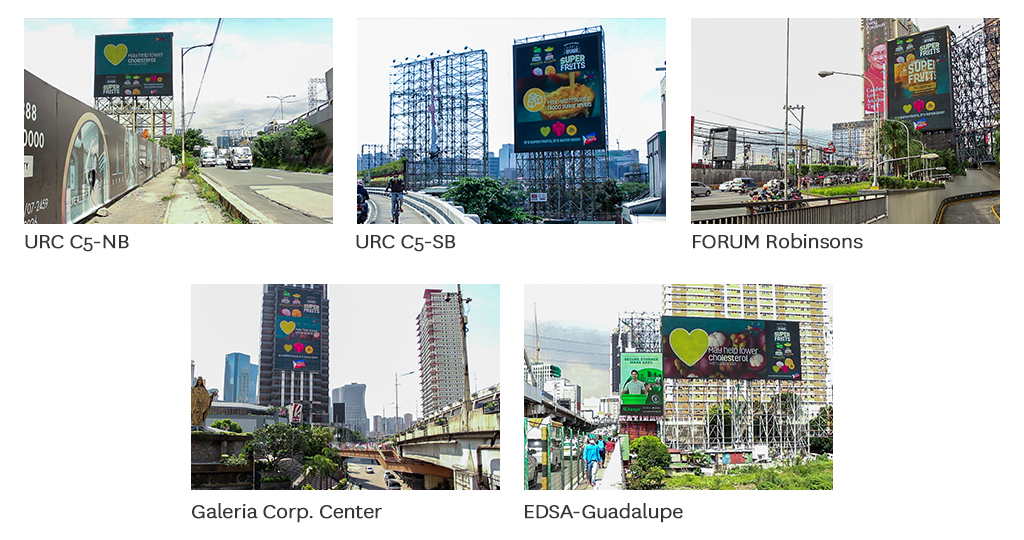 Played on the Summit LED screens along EDSA Guadalupe, Robinsons Forum, Galleria Corporate Center, and the northbound and southbound lanes of C5 from October 8 to November 6, the ads were scheduled into four 30-minute roadblocks or aired for a total of two hours a day with free regular spots for maximum impact.

"We thought about the simulcast approach because of the current scenario of OOH airing. Given that there are more and more brands airing in OOH and maximizing traffic hours, we wanted to find a way to stand out for our product launch. Thus, we went against the usual 10s rotation ad approach and did a "blocktimer" approach in successive top Summit LED sites for bigness and recall. We've received numerous qualitative feedback about it on how consumers took notice of our product!" shares Gretchen King, Marketing Category Manager of NutriAsia, Inc.

When asked why the agency of NutriAsia chose Summit OOH as the partner to deliver the compelling idea, Edriane Bandavia, Partnership Executive at Initiative, says "Summit is flexible and open to doing creative treatment executions in their LED sites. It is a great opportunity for the advertisers now to leverage this new offering and think of creative ways to maximize it for their campaigns." He also highlights the advantage of Summit Outdoor Media's Vehicle Recognition Devices and Dashboard tool which provides them with real-time average traffic count and viewers within the period of the implementation. "These are all first times and I'm glad that Summit did this," he adds.

As the activation reached its end, one thing is even more certain: OOH simulcasts add extra impact to your message delivery and create an engaging experience that you can't get anywhere else. And now that the campaign's done, the valuable audience insights collected can be used to help inform and further improve the next one.