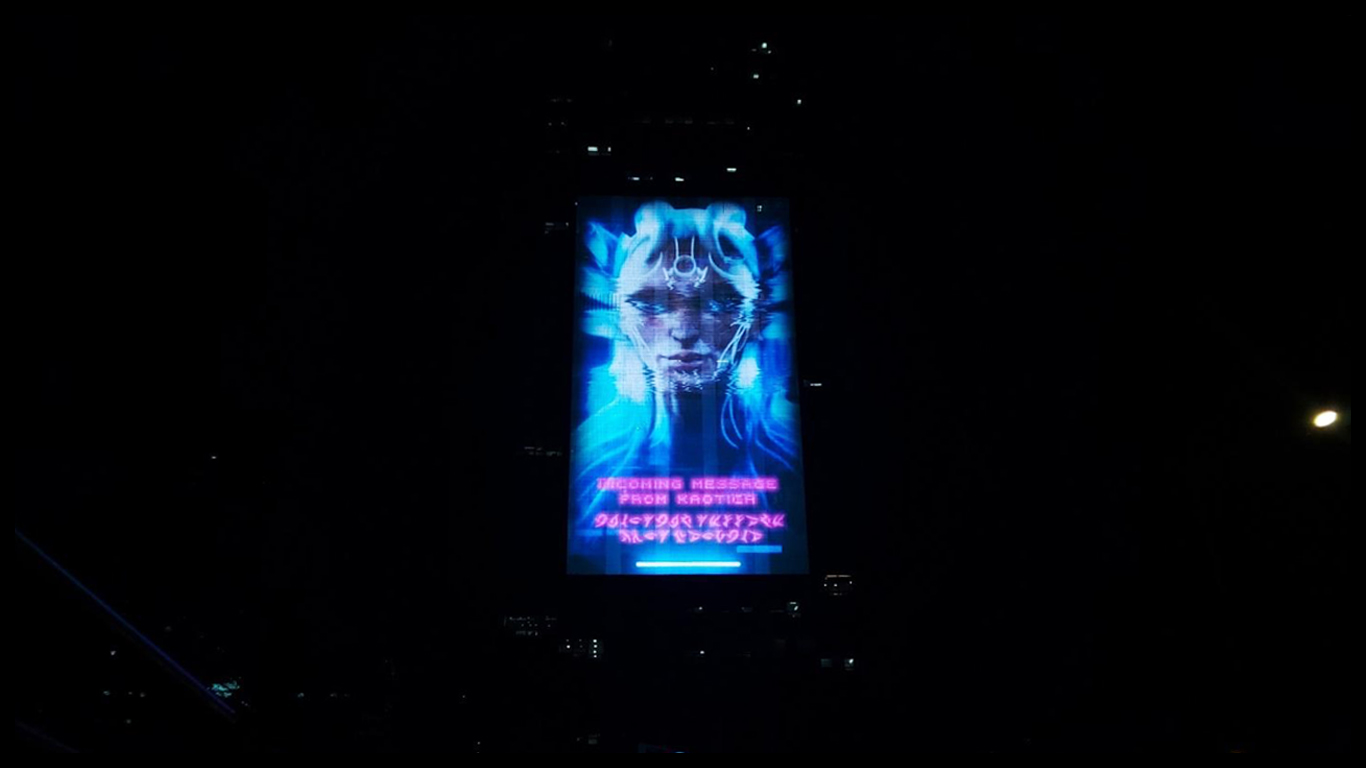 Beginning July 16, a 3D holographic illusion of Coldplay's ethereal and cryptic alien message will be aired from Summit Outdoor Media's LED billboard along EDSA Galleria Corporate Center. The three-dimentional visuals from the band's latest music video "Higher Power" will be shown multiple times every night for a whole month. The billboard is also integrated with a scannable Spotify Code of the new track which makes the execution even more engaging and ground-breaking!

This innovative LED billboard execution is a first by Summit Outdoor Media, in partnership with Warner Music Philippines Inc. 
Coldplay's newest music video offers an otherworldly, intergalactic experience. 
Inspired by the thought of how musical acts would be like if they were on other planets, "Higher Power" is the brand new single from global superstars, British rock band Coldplay. 
In their music video directed by Dave Meyers, vocalist Chris Martin wanders around the fictional dystopian planet Kaotica and meets some aliens. According to the director, the video represents our current situation and how it sometimes feels like we're living on an alien planet.
Before the video's public release, the band even had their music video previewed by a French astronaut aboard the International Space Station. 
Warner Music Philippines Inc. wanted an execution that would best bring the video to life. 
"Higher Power" has all the elements of a sci-fi film: a The Matrix-like planet, dancing aliens, robotic dogs, sudden light flashes, a "digital angel", and otherworldly visual effects. 

So, when Warner Music Philippines Inc. reached out to Summit Outdoor Media about their out-of-home products, they were excited to find out that Summit Outdoor Media now offers 3D optical illusion activations. For them, a 3D holographic illusion billboard roadblock matches perfectly with their vision for the single. They felt that the innovative execution will also help them bring their artists closer to a wider audience.
The 3D holographic illusion billboard in a roadblock execution is a first-in-the-Philippines, and it might not be the last! 
Coldplay's 3D roadblock ad is Warner Music Philippines Inc. and Summit Outdoor Media's first project together. The two worked side-by-side on the project, starting with the pitch, to the concept, to the final execution of the material.
We might even see more of these out-of-the-box OOH executions soon. According to Thea Madrideo, Warner Music PH's International Marketing Manager, "We're definitely keen on leveraging the technology and expertise of Summit Outdoor Media to produce out-of-the-ordinary, out-of-home activations for our local and international artists. This will be our way of 'extending' the wonderful art our artists create into bigger screens and varied audiences."
Read more about Summit Outdoor Media's innovations on out-of-home advertising here.